9th Annual Family Fly-In and Movie Night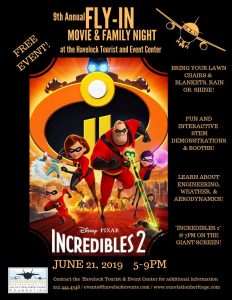 9th Annual Family Fly-In and Movie Night
Friday, June 21, 2019
The Eastern Carolina Aviation Heritage Foundation (ECAHF) in partnership with the City of Havelock will hold its 9th Annual "Fly-In" Movie and Family Night starting at 5:00 p.m. on Friday, June 21, 2019 at the Havelock Tourist and Event Center (201 Tourist Center Dr.).
This event will allow families in the community and surrounding areas an opportunity to enjoy a FREE family night and learn how STEM (Science, Technology, Engineering, & Mathematics) education relates to aviation and the local area.  Activities include fun, interactive, and educational STEM demonstrations/booths, free giveaways, a photo opportunity with Marine Corps flight gear and concluding with a showing of a family movie* on a giant screen, and so much more!
ECAHF's mission is to celebrate the heritage of Marine aviation in Coastal Carolina as a lasting tribute to the evolving communities, both military and civilian, and extend that heritage, culture and knowledge to generations of Americans through experiences that entertain and educate.  The event will feature interactive activities and exhibits for all ages related to STEM: weather with a meteorologist onsite, aerodynamics, engineering, flight physiology, as well as others!
ECAHF is an organization under the guidance of the City of Havelock. This free event is one of our prime opportunities to honor the men and women of our armed forces, while promoting STEM education opportunities for young learners.